Leech Lake is located primarily in Cass County with the nearest town of Walker, Minnesota as your starting point. The beauty of Leech Lake Minnesota is that most of it is less than 35 feet deep but it can reach up to 150 feet in depth in Walker Bay.  There are 112,835 acres of crystal clear waters with 195 miles of shoreline.  Leech Lake Minnesota is so abundant with fish that it is considered the "walleye factory" of Minnesota as anyone from beginner to advanced fisherman can have a great time on the lake. What makes this area an ideal fishing retreat/resort on Leech Lake? Approximately 78 miles of the shoreline is known to be an ideal habitat for walleyes. Aside from walleyes you can expect to take home Largemouth Bass, Northern Pike, Crappie, Perch, Bluegills and Eelpout.
Loon Lodge Vacation Cabins offers the best fishing retreat on Leech Lake Minnesota that you will ever find. Let our lodging cabins take you on an adventure that you will want to enjoy over and over again with your friends and family.  Our Loon Lodge fishing vacation retreat cabin on Leech Lake was built in 1995 and over a three year period has undergone extensive remodeling both inside and out. There is virtually no part of this gorgeous fishing retreat cabin on Leech Lake that isn't new. Enjoy magnificent new light fixtures, cool airconditioning, fine log railings and beautiful wood floors.  Our carpets, plumbing, door and cabinet hardware fixtures will impress no doubt.  Let us take you and your family on your dream vacation/resort with our beautiful fishing retreat on Leech Lake.
With the first snowdrop comes the end of summer and the beginning of fun ice fishing activities. Enjoy unforgettable ice fishing adventures on our Loon Lodge fishing retreat cabin on Leech Lake. The lake here in Walker MN is famous for its abundant supply of walleye and the amazing part is that the fish behaves the same as they do during the autumn, spring and the winter season.  There are dozens to be had in the basins of Walker Bay and around drops in Agency Bay. Walleye is terrific for ice fishing activities with the family as they are consistent all year long. You can get the best chance of catching one in the low light just before dawn and at dusk.  Sometimes, the walleye can be very active and you can get lucky as you can easily catch them with a tip up but a shortened rod that remains active in the hole is your best bet.  We recommend using medium-small jigs for catching them during winter but in less active periods a jigging spoon tipped with bits of minnow can net you an amazing catch. Our gorgeous fishing lodge/ retreat on Leech Lake is the perfect spot for you to rest in between ice fishing activities. Let Loon Lodge take you on your best ice fishing adventure.
The sheer size of Leech Lake can be overwhelming to anyone but that is the beauty of it.  There is fish literally everywhere.  Our beautiful fishing  lodge/retreat on Leech Lake is the perfect spot for you and your family to begin your fresh water fishing adventures. Regardless if you prefer pulling cranks, casting, jigging or running lindys there is a huge variety of spots on the lake that can accommodate your preferred fishing style.  Since fish are always attracted to where the food is you can easily find them in the weeds, rocks or just along the shorelines where the wind is blowing.  Enjoy hunting for bass on our fishing retreat on Leech Lake. The lake features a good quality largemouth bass that you cannot find anywhere else. They can easily be found in shallow water and heavy cover. Perch is always fun to catch on our beautiful fishing retreat on Leech Lake. Large perch can be quite aggressive during the fall.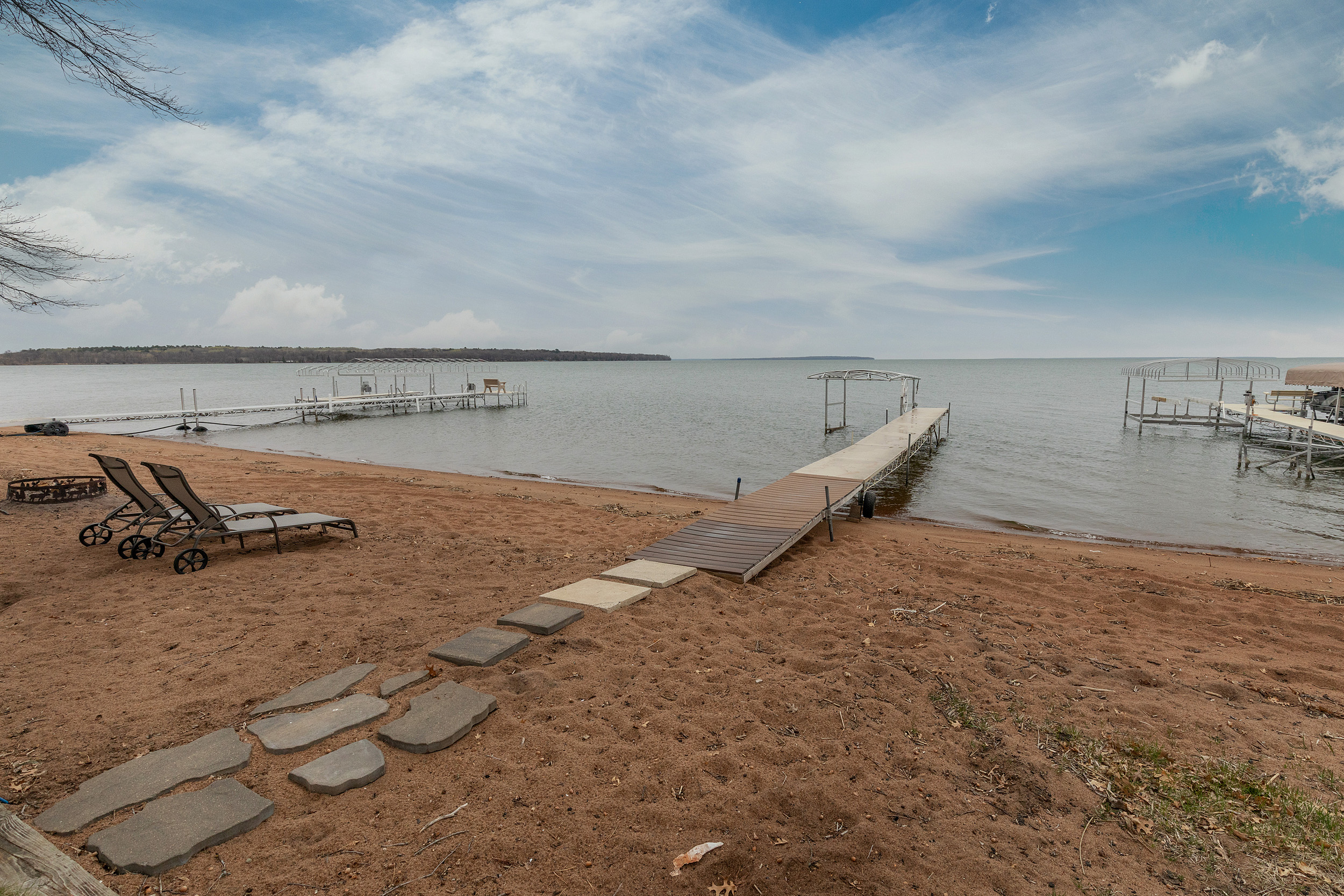 "Had great time staying at Loon Lodge. Everything as advertised. Hassle free, easy way to enjoy time at a fantastic lake. Owner very easy to do business with, answers all questions, first class all the way. Recommend this to everybody from families, friends, relatives and fishermen. Will be back next year."
For the true fisherman, fly fishing is the way to catch fish and what better way to enjoy this activity than a stay at our beautiful fishing retreat on Leech Lake.  Fly fishing is an elegant way to pass the time, settle your mind while also provide food on the table. This beautiful pastime requires craftsmanship and skill to perfectly cast your line.  Enjoy fly fishing on our fishing retreat on Leech Lake as you catch Northern Pike, a really exciting fish that always puts up a big fight. You can find them all over the lake and they are always willing to bite on your fly bait. Expect to catch also bluegill and sunfish as they are always available on the lake all season long. The entire family will have lots of fun catching them.
Our comfortable fishing retreat on Leech Lake can ensure you will have a wonderful stay. It is walking distance from the beach, and featuring a deck that faces east to ensure good protection from the afternoon sun. Our site is a great spot for campfires and there are lots of chairs for sitting next to the fire beneath the deck as you enjoy the day's catch.  Let Loon Lodge Vacation Cabins bring you the ultimate Leech Lake fishing experience.